Summer is in full force and many influencers are enjoying wonderful engagement with their followers. Wherever you are, and whatever the current status is on things being open (or not) and masks being required (or not), here at Pets on Q we want to wish you a
safe, healthy and happy summer!
August is National Immunization Awareness Month (NIAM), and that means it's a great time to double check and make sure that you and your loved ones (human and animal alike) are up to date with vaccinations. We understand that vaccines may be a hot-
button issue at the moment, and we certainly respect everyone's freedom of choice, but regardless of your stance it is an important subject to be well-versed on.
NIAM was established by the Centers for Disease Control and Prevention to raise awareness of the importance of vaccinations for people of all ages. It educates us about immunizations that protect against serious and potentially life-threatening diseases. But vaccinations are not just for people, your animal (whether furry, scaly or feathery) may need vaccinations as well. Be sure to check with your vet so you can stay up to date on any
recommended vaccinations for your pets in order to keep them as safe and healthy as possible. Many need to be updated each year, so it's never too early to check!
In August we also honor the amazing, hardworking assistance dogs of the world (and their trainers) by celebrating International Assistance Dog Week (IADW) from August 2nd to August 8th. Assistance dogs take their dedication to their humans even further than usual by helping them navigate their daily lives, assisting with various tasks, providing companionship, love and constant vigilance.
Many humans literally could not live comfortably and independently without their Assistance dogs. If you or someone you know has an Assistance dog, send them some extra love this week and show them you care! Be sure to get some great photos and tag us when you post them 🙂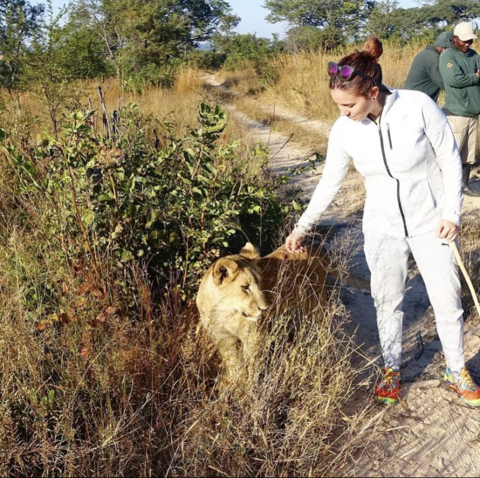 August is a spectacular month to capture incredible content with your pet to use on your social media pages. No matter what kind of pet you have (or even if you don't have one) there are plenty of days that could be very fun to celebrate! From World Lion, Elephant and Lizard Day on the 10th, to Black Cat Appreciation Day on the 17th, to National Dog Day on the 26th there are tons to choose from. I know that I, for one, am definitely going to be busting out my meditation pyramid to capture some fun content and celebrate National Holistic Pet Day with my pets on the 30th
Remember to always make sure your pet is safe, secure, and rewarded for their time in front of the camera! Be sure to tag @petsonQ in any of the amazing photos or videos you create, and be sure to check out the Pets on Q IG and Community for the latest challenges that you can be a part of!